BirdTIPS is a flexible three-column blog theme. Its responsive layout and is therefore optimized for tablet pcs and smart phones. You can also choose the text color, link color, article title color and navigation menu color on the Theme Customize.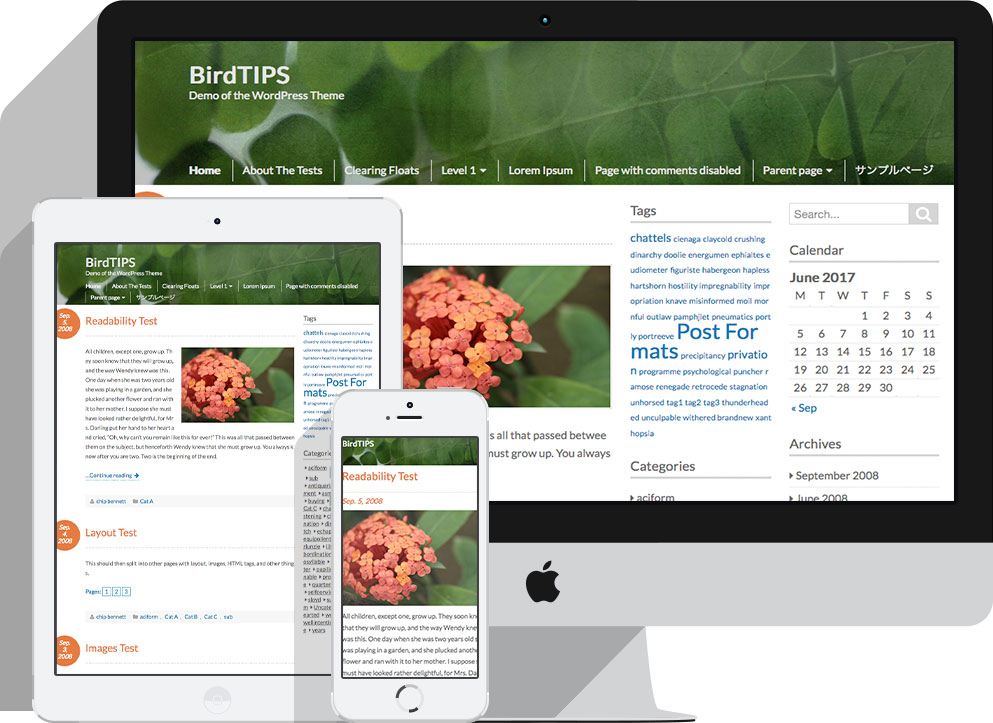 Tags
three-columns, right-sidebar, custom-background, custom-colors, custom-header, custom-menu, editor-style, featured-image-header, featured-images, full-width-template, rtl-language-support, sticky-post, theme-options, threaded-comments, translation-ready, blog
Features
Responsive Layout, Theme Customize
Widgets Areas
The Theme has two customizable sidebars.
You can use these area to customize the content of your website.
If no content is be added to the sidebars these will display search box and category list, monthly archives, meta.
Theme Customize
Colors section
Background Color: for background.
Text Color: for text color.
Link Color: for link color.
Article Title Color: for title color on article. and background color on footer.
Navigation Text Color: for website title and navigation text color on header.

Layout section
Display Copyright: display copyright on footer.
Display Credit: display credit on footer.
Postdate Shape in article: rectangle or circle.
License
BirdTIPS WordPress theme, Copyright (C) 2012 Sysbird
The theme is licensed under the GPL.
License: GNU General Public License v2.0
License URI: http://www.gnu.org/licenses/gpl-2.0.html
The script html5.js and css3-mediaqueries.js are licensed under MIT
The iconfont Font Awesome is released under the GPL license.
Header Images are photo by theme author and are released under GPL license.
Third-party Resources
html5shiv.js
License: MIT/GPL2 Licensed
Source: https://github.com/aFarkas/html5shiv
Google Fonts
License: SIL Open Font License, 1.1
Source: http://www.google.com/fonts
Font Awesome
License: SIL Open Font License, 1.1/MIT License
Source: http://fortawesome.github.io/Font-Awesome/
Author
The theme built by TORIYAMA Yuko at Sysbird.
You can contact me at inquiry form.